TroopAwards™ is a company that develops specialized printing software for scout troops.
Their software is available at www.TroopAwards.com.  TroopAwards is not affiliated with TroopWebHost, but we have worked with TroopAwards to provide a solution for printing a troop directory from your TroopWebHost data.
The TroopAwards troop directory gives you the option of including photos of individual members in the report without making those photos available on the troop website.
Begin the process by selecting Export Roster To Troop Awards from Export Membership Data on the Membership menu.  This will display a screen like the one shown below.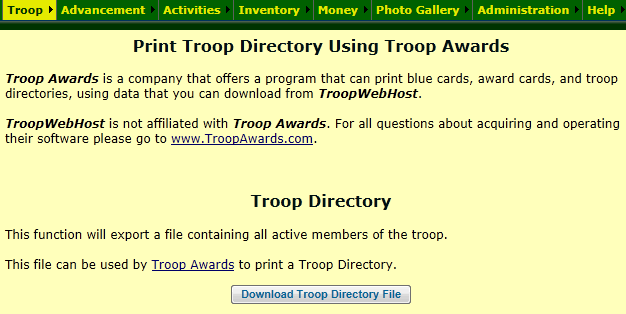 Troop Directory
You can download a file that is compatible with the TroopAwards directory function.  Simply press the Download Troop Directory File button. 
The file will contain the contact information for each active member in your troop.  It can be merged with individual photos on your local computer.