Rechartering Overview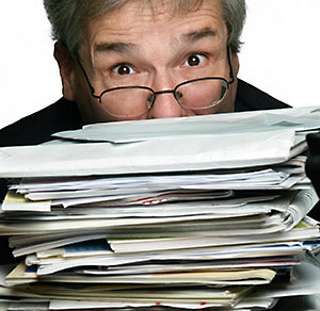 Every year your unit must renew its charter with the Boy Scouts of America™.  This process is often referred to as "rechartering".
In TroopWebHost you will begin the process by creating a recharter year. This allows you to select the scouts and adult leaders who will be included in this recharter.
Some additional information must be entered on the Troop Information page.
Once this is in place, you can print the Recharter Worksheet to assist you with the recharter process.
You may also produce a ScoutNet™ Recharter File to submit directly to your council's website.   It contains all of the data they need to renew your troop's charter.
Recharter Years
Begin the recharter process by creating a recharter year. To do this, please go to Membership → Recharter → Recharter Years to see the following page.

Click Add a New Item to create a new recharter year.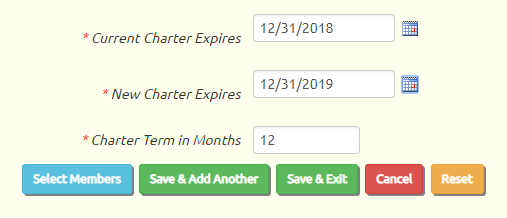 Current Charter Expires is the date your current charter expires; it is the day before your recharter becomes effective.
New Charter Expires is the end of your next charter year.
Charter Term In Months will usually be 12, unless you are changing your charter year ending date to a different month.
Click Select Members to add this year and select the members who will be included in the recharter.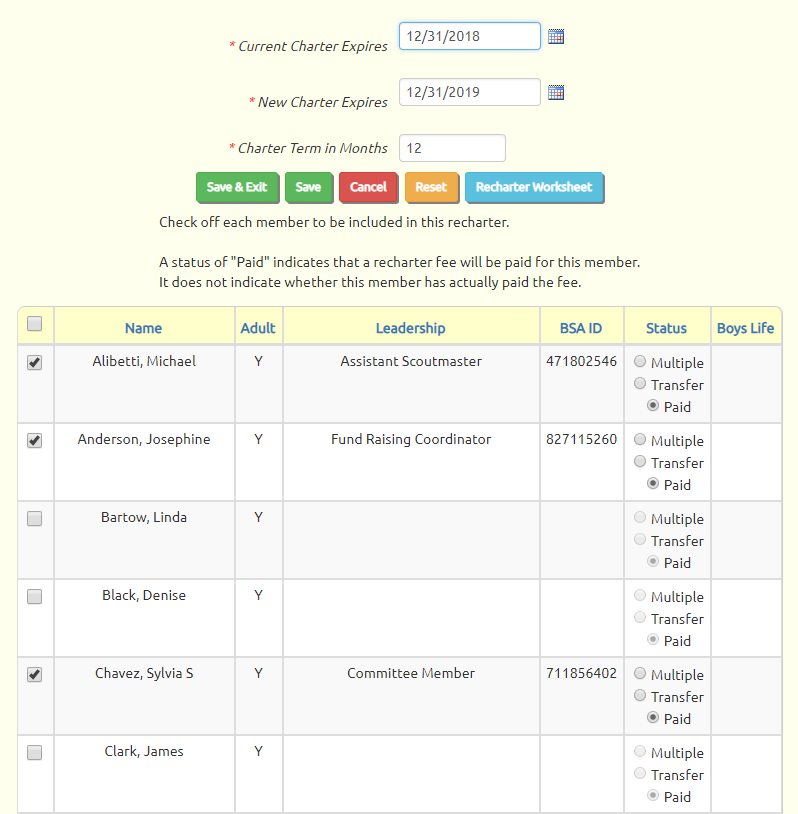 The system preselects all active scouts.
It also preselects all adults who:
Hold a leadership position as of the start of the new charter year, or
Have a BSA ID number on their membership record
Review the list and update as appropriate.
The Status column choices are:
Multiple - indicates that this member belongs to multiple BSA units, and the recharter fee is paid at one of the other units
Transfer - indicates this member is transferring from another BSA unit where their recharter fee has already been paid for this year
Paid - indicates that this member's recharter fee is paid from this troop
The Boys Life box should be checked for every scout who subscribes to Boys Life.
Click Save & Exit button to save your changes.
Click Recharter Worksheet to produce the Recharter Worksheet report.
Update Troop Information
Additional information is needed to identify your troop in the Recharter Worksheet and the ScoutNet™ Recharter File.
Go to Site Configuration → Troop Information to see the page shown below.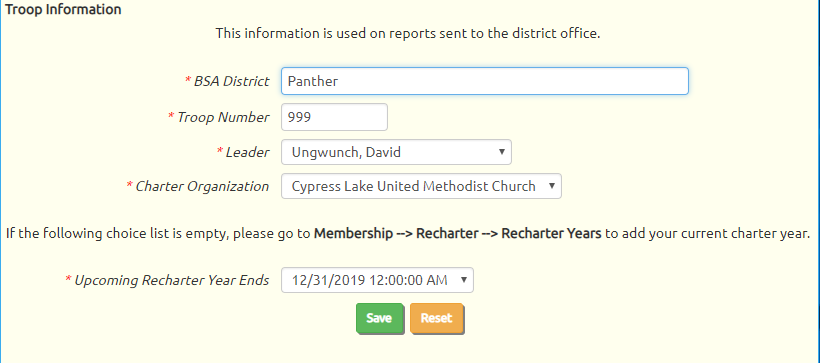 BSA District is the district your unit belongs to.
Troop Number is your unit number.
Leader is the adult leader of your troop.
Your Charter Organization should already be set up as an Event Location. Make sure you fill in as much information as possible in the Event Location you create for your charter organization.
The Upcoming Recharter Year Ends should be the most recently created recharter year.
Click the Save button to save your information.
Recharter Worksheet
The Recharter Worksheet may be produced by going to Membership → Recharter → Recharter Years and selecting the year for which you wish to run the report. You will find a Recharter Worksheet button near the top of the recharter year detail page.
This report has the following sections:
Summary information
Adult members
Youth members
Dropped adult members
Dropped youth members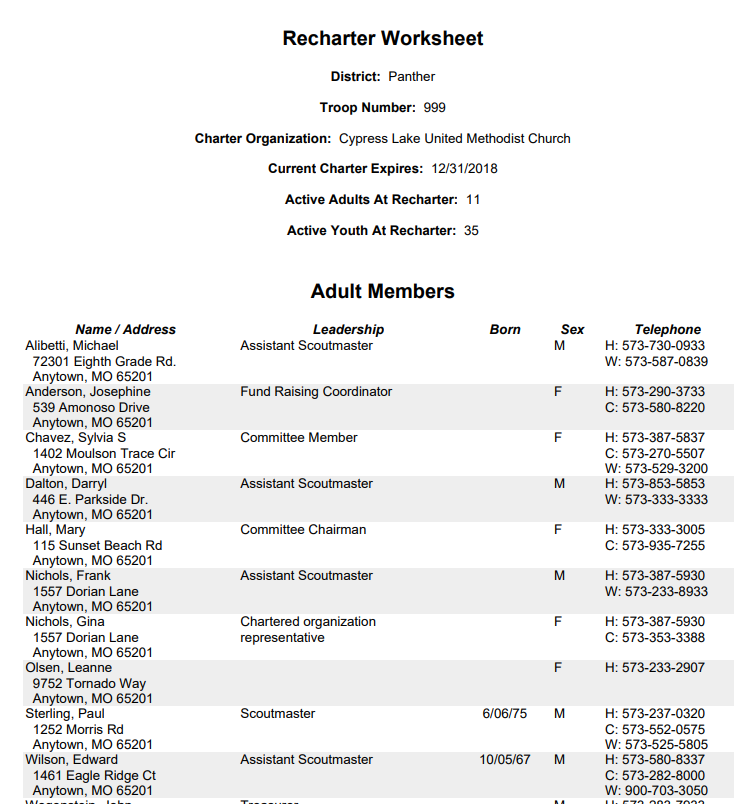 ScoutNET™ Recharter
ScoutNet™ is a system developed by the BSA™ as a way to electronically transfer data from scout troops to the BSA's central database.
It can accept a recharter file. This file is a text file where each of the values is separated by commas. This is often referred to as a CSV, or "comma separated value" file.
It contains various types of records that provide information about your troop and its members.
Before producing this file, you must create a recharter year for the year you are rechartering. This will identify the scouts and adult leaders who will be included in this recharter.
You will also need to create an event location that represents your charter organization.
To produce the ScoutNet recharter file, select Export ScoutNet Recharter File from the Recharter submenu on the Membership menu. This will display a screen like the one shown below.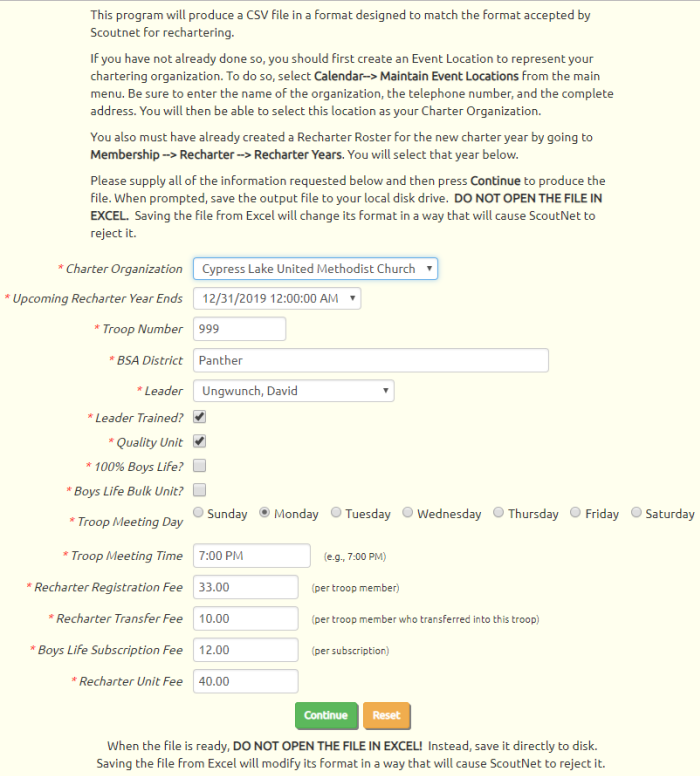 Select your Charter Organization from the list of Event Locations.
All of the information on this page will be saved to your database when you press the Continue button at the bottom of the page, so it will be available the next time you recharter.
The system will create the recharter file when you press the Continue button. DO NOT OPEN THIS FILE IN EXCEL. If you save the file from Excel, it will change the file format in a way that will cause ScoutNet to reject it. Instead, please save the file directly to your local disk.
Remember where you saved this file, so you can access it when you log on to your council's website to submit your renewal.
Rechartering FAQ

Is your system ScoutNet™ certified?
No, but it is not for lack of effort or willingness on our part to have it certified. The BSA™ has informed us that they no longer offer certification to new software packages. It appears that they have not allowed any new software vendors to be certified for at least ten years.
As a result, one thing that ScoutNet™ certification tells you is that the certified software is based on outdated technology, since it had to have been created over a decade ago.
However, since the ScoutNet™ recharter file is a simple CSV file, it was relatively easy for us to determine the format of the file and create a compatible output file.
We are confident that you can use this file to complete your rechartering process.
When I tried to upload my recharter file to the council, it rejected it as being an incorrect format. What did I do wrong?
It's possible that you opened it in Excel rather than saving it directly to your local drive. Even if you save it from Excel as a CSV file, Excel will change the format in a way that will cause ScoutNet to reject it. If this happens, simply create a new file from TroopWebHost.
If you have problems uploading your recharter file, please open a support ticket and attach a copy of the file. Please include the specific error message you received in the ticket.