ScoutNet™ is a system developed by the BSA™ as a way to electronically transfer data from scout troops to the BSA's central database.
It can accept a recharter file. This file is a text file where each of the values is separated by commas. This is often referred to as a CSV, or "comma separated value" file.
It contains various types of records that provide information about your troop and its members.
Before producing this file, you must create a recharter year for the year you are rechartering. This will identify the scouts and adult leaders who will be included in this recharter.
You will also need to create an event location that represents your charter organization.
To produce the ScoutNet recharter file, select Export ScoutNet Recharter File from the Recharter submenu on the Membership menu. This will display a screen like the one shown below.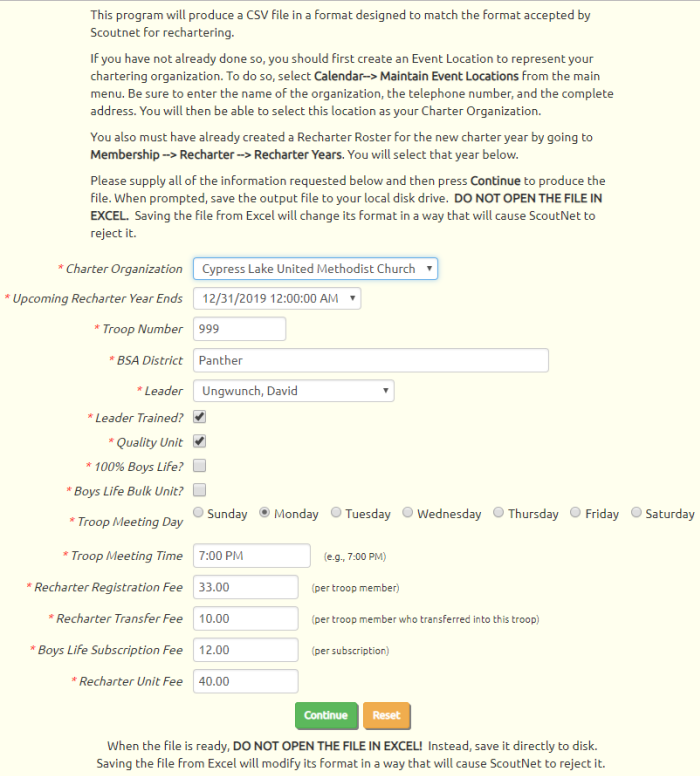 Select your Charter Organization from the list of Event Locations.
All of the information on this page will be saved to your database when you press the Continue button at the bottom of the page, so it will be available the next time you recharter.
The system will create the recharter file when you press the Continue button. DO NOT OPEN THIS FILE IN EXCEL. If you save the file from Excel, it will change the file format in a way that will cause ScoutNet to reject it. Instead, please save the file directly to your local disk.
Remember where you saved this file, so you can access it when you log on to your council's website to submit your renewal.