Group Transactions provide an easy way to quickly enter the same transaction for a group of troop members.
This comes in handy for:
Charging scouts their monthly dues
Charging troop members for their share of a campout
Crediting troop members for their share of fundraiser proceeds
Select Group Transactions from the Money menu.
Then select Add a New Item to see the page shown below.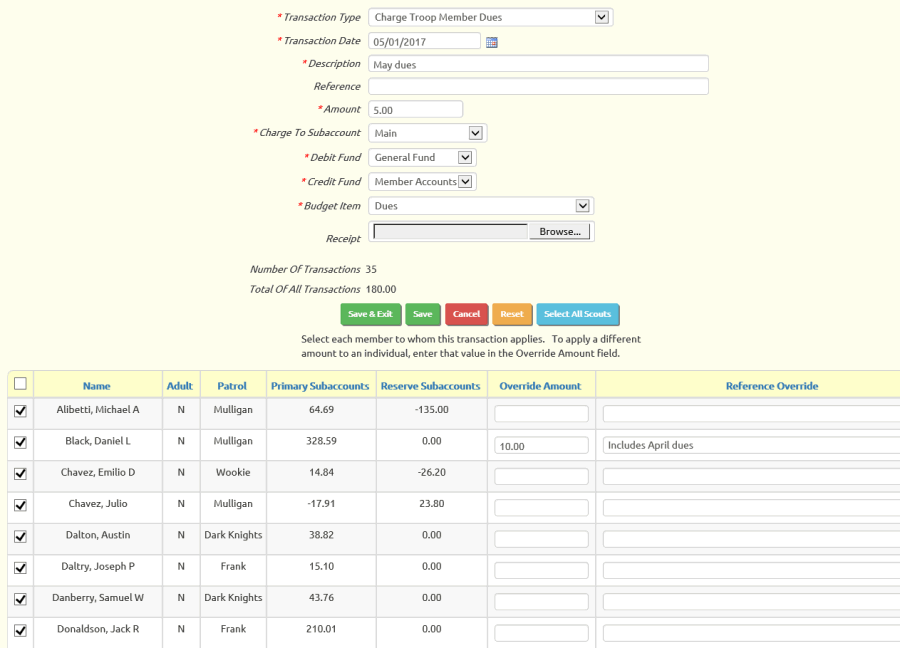 The top part of the screen is similar to the Individual Transactions entry page.
Select the appropriate transaction type, then enter a transaction date, description, reference, and amount.
Then select the members for whom you wish to create this transaction by clicking in the checkbox next to their name in the list in the lower portion of the page.
Use the Select All Scouts button to select all of the scouts in the list.
If you need to specify an amount for a member that is different from the amount specified at the top of the page, you may enter that amount in the Override Amount field for that person. This will cause the transaction for that individual to be created with the override amount.
Similarly, use the Reference Override to enter a different Reference note for a particular individual.
Click on the checkbox in the header row of the grid to select all members. Click it again to unselect all members.
Scroll to the bottom of the page to click the Save & Exit button when you are ready to create the transactions.
Group transactions will appear in the Individual Transactions grid, but they cannot be modified from that page. You must return to the Group Transactions page to make any changes.