Go to My Stuff → My Money → Request Expense Reimbursement to submit a request to be reimbursed for an expense you incurred for a camping trip or other event.
This function must be enabled by your treasurer or site administrator before you see it on your menu.

This page shows past requests that you've submitted. Requests that are still pending can be updated. Those that have been approved or rejected may be viewed.
Click Add a New Item to submit a new request.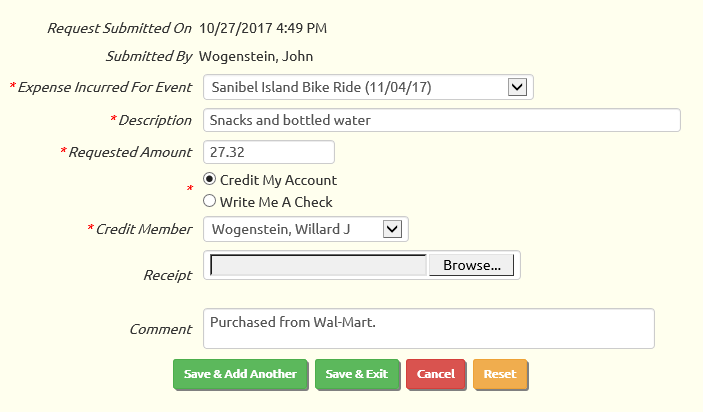 Begin by selecting the event for which the expense was incurred.
The Description should briefly describe the item that was purchased.
The Requested Amount is the amount you spent on this item.
You can be reimbursed in one of two ways:
Select Credit My Account to have the treasurer issue a credit to your account, or that of a family member, for the amount of the expense.
Select Write Me A Check to ask the treasurer to make a direct payment to you, typically in the form of a check.
If you choose Credit My Account, you will be able to select which member of your family whose account will be credited.
You may upload an image of the receipt for this purchase.
Use the Comment field to provide a further explanation of this request.
Click Save & Add Another or Save & Exit to save this request.