The Adult Leadership page displays a history of the adult-held leadership positions, such as Scoutmaster or Committee Chairman, in your troop. It is accessed through Membership → Leadership → Adult Leadership.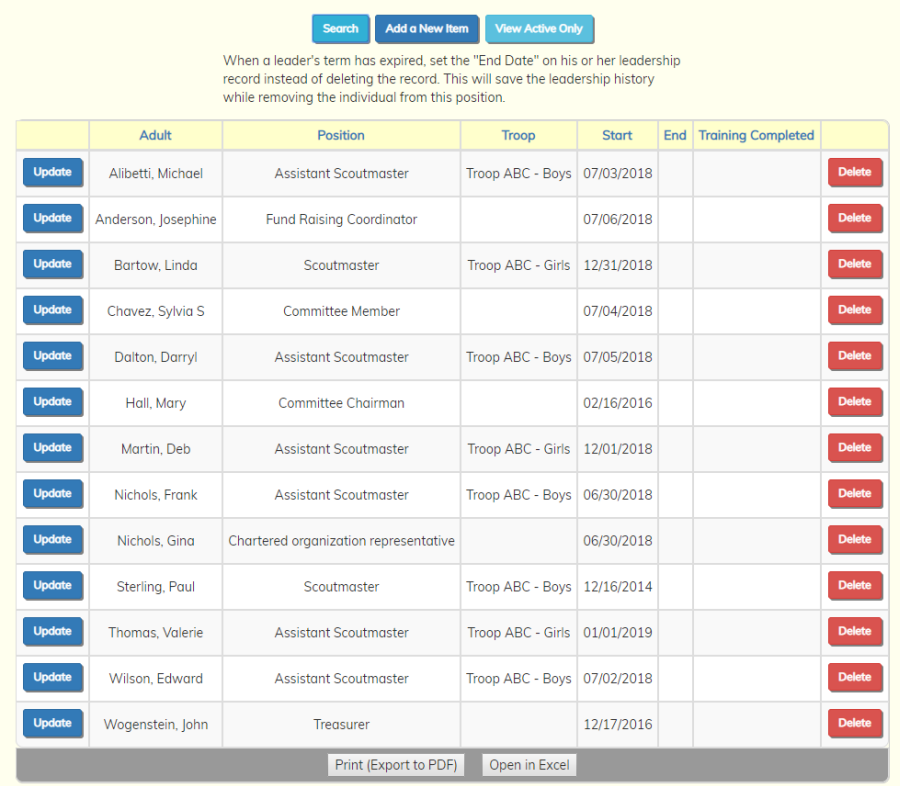 On the right side of the table, you will see two columns that contain start and end dates, respectively. The start date represents the beginning of when the adult held that position, and the end date indicates when the term expires. For long-term positions, the end date may be left blank.

This page displays a history of adult leadership positions within the troop. Click View Active Only to only see the current leaders.

You should not delete the records of expired positions. Leaving the records in the database allows you to see information about the past leadership of the troop.

Click Add a New Item to add a new leadership record. This will not allow you to add a new adult to the troop; to do that, you should use the Add a New Item buttons on the Active Adults page.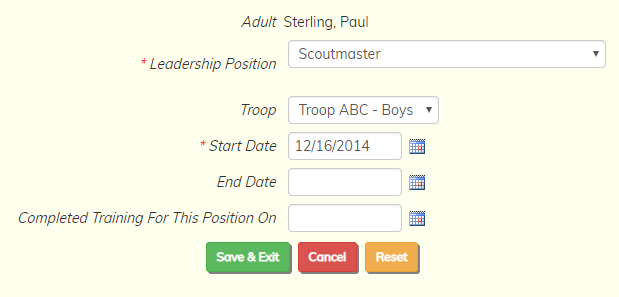 When adding a new record, you must choose a leadership position that has been defined on the Leadership Positions page. You can use that page if you want to add new positions.
You will only see the Troop drop down list if you are using this site to manage both a boy troop and a girl troop. Even then, it is not a required field, since some positions may be shared between the two troops.
The End Date should only be entered if you know for sure that this person will stop serving in this position by a certain date. Otherwise, it should be left empty.
Completed Training For This Position On is the date on which this person completed all required BSA training for this position. It is used when compiling the Journey To Excellence report.