Adult members can also earn awards. You can record those awards by selecting Special Awards - Adults from the Maintain Advancement submenu on the Advancement menu.
This will display a list of adult awards already earned or in progress, as shown below.

You can update any of these records by clicking on the Update button.
You can add a new award that an adult is working on by clicking the Add a New Item button.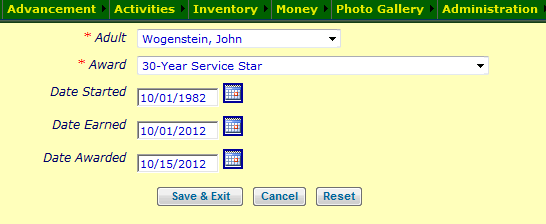 The first control allows you to select the adult who is eligible for this award.
The second control allows you to select the BSA™ award.
Indicate the status of this award by entering the appropriate dates.
Each adult can view the status of his/her awards by selecting My Awards (Adult) from the My Stuff menu.
Adult awards will be included on the Pending Awards page and in the Pending Award Counts and Pending Award Labels reports.
The date awarded for adult awards will be affected by the Set Award Date page.