There may be groups of members within your troop to whom you frequently wish to send e-mails. For example, your scoutmaster corps, the troop committee, or the senior patrol leaders.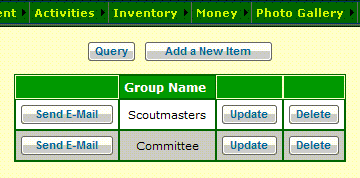 You can make this easy by creating E-Mail Groups.
Select Maintain E-Mail Groups from the E-Mail menu. This will bring you to the page shown at right.
Click Send E-Mail to begin composing an e-mail to this group. When you get to that screen, you will see that all the members of this group were pre-selected.
Click the Add a New Item button to begin creating an Email Group.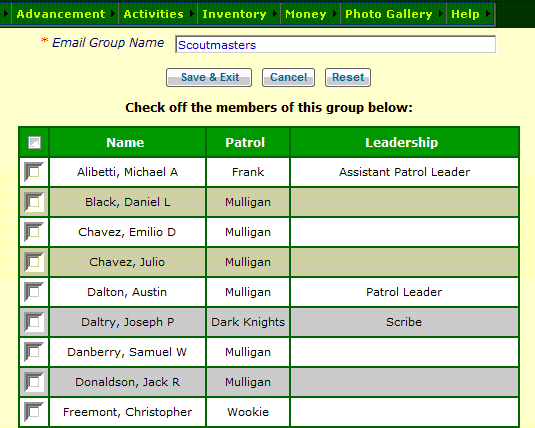 As you can see, Email Groups are very simple.
First, make up a name for the group.
Then select all of the members of that group by clicking on the checkbox next to their names.
Finally, click Save & Exit to save this group.
You do not need to create Email Groups for patrols. The Patrols page has a button that will let you send an e-mail to all members of a patrol.
Also note that you can send an e-mail to all members of a Dynamic Subgroup, which can include one or more e-mail groups.
You can send a message to any kind of group from the Send E-Mail To Group page.