You can record the shirt size for each member of your troop on their membership record. Members can update their own shirt size on the My Personal Information page.
You can configure the list of available shirt sizes for your troop by going to Site Configuration → Shirt Sizes.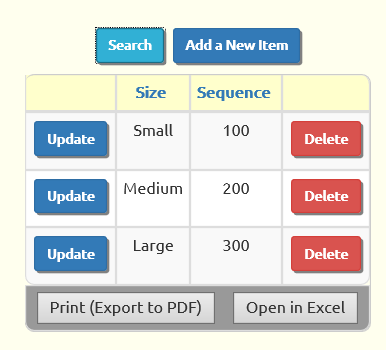 Your system came pre-configured with three shirt sizes, but you can add or remove sizes using this page.
If you delete a shirt size that members have already selected, the shirt size field on their record will be cleared out.
Press Add a New Item to add a new size to the list.

The Size is the name for this size that will display on the choice list.
The Display Sequence controls the order in which this item will appear on the list. Smaller numbers appear at the top; larger numbers appear lower down.
Click Save & Exit to save this entry.