My Personal Information lets you view and update your troop membership record.
To make changes, simply enter the new information and then scroll down to the bottom of the page to click the Save button.  Just like the Change My Password screen, you will notice that the same screen will redisplay.   To go to another function, select it from the menu.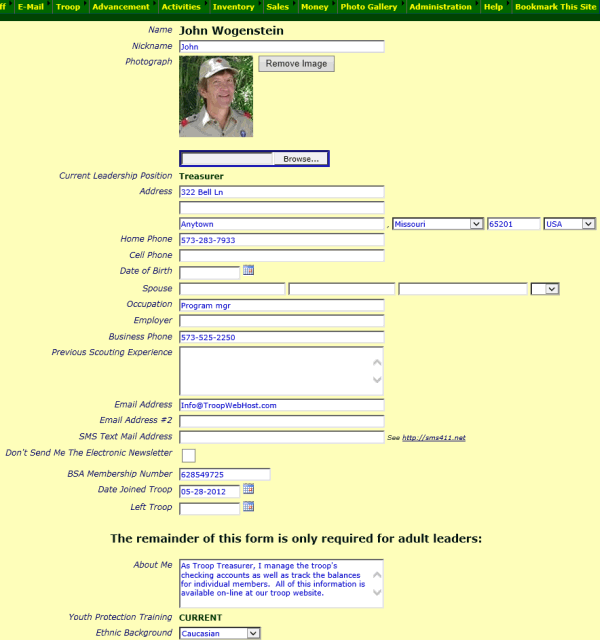 Scouts will see different types of information on this page than adults.  The sample shown at right is for an adult.
For example, scouts are not able to upload a personal photo (unless you've customized your security to authorize the Scout user role for the Scout Photo task.)
All troop members should be sure to keep the following information up to date on this page:
Mailing Address
Phone Numbers
E-mail Addresses
SMS Text Mail Address
If your troop is using the Automated Electronic Newsletter, individual members may opt out of receiving the newsletter by checking the Don't Send Me The Electronic Newsletter box.
For adults who hold leadership positions, some of the information on this screen will be displayed on the Our Adult Leaders page:
Photograph.  Click Browse to find a close-up photograph of yourself to share with the public
About Me.  These remarks will be displayed on the public website
Adult leaders who do not want to be listed on the Adult Leaders page should check off the box Don't include on public Adult Leaders page.
Every adult who will be driving scouts to campouts and other events should fill out the drivers license and vehicle insurance information at the bottom of the page.  This information will be shown on the Tour Permit Worksheet which helps your leaders prepare their tour permit request.