If your troop wants to accept payments on-line, you will first need to set up a Merchant Account at PayPal™, by going to their web site at www.PayPal.com
If your charter organization qualifies as a 501(c)(3) tax exempt organization, you can obtain a lower transaction rate if you provide PayPal™ with the necessary documentation.
PayPal™ will require you to identify and confirm your troop's checking account, a process that may take several days to complete.
Once you have a Merchant Account, the next step is to identify your Merchant Account ID.
While you are logged on to the PayPal™ web site, click on the cog icon in the upper right corner next to the word "Profile" to open the Profile menu. Then select "Profile and settings" from that menu to see the page shown below. You should see your Merchant Account ID in the lower portion of this page. If not, make sure you've selected "My business info" in the menu on the upper left side of the page.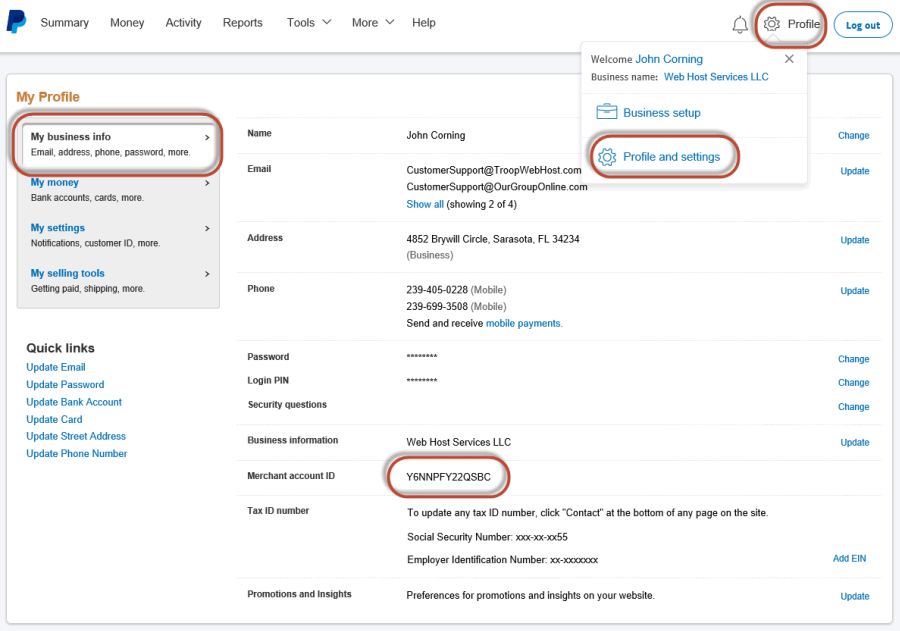 You will need to know this Merchant Account ID when you get to the PayPal Configuration page later on, so make a copy of this value.
You should also note the current balance of your PayPal™ account for when you set your starting balance.