The Site Appearance page allows you to change the way your website looks. It is only accessible to users with Site Administrator privileges. You can access it through Site Configuration → Site Appearance.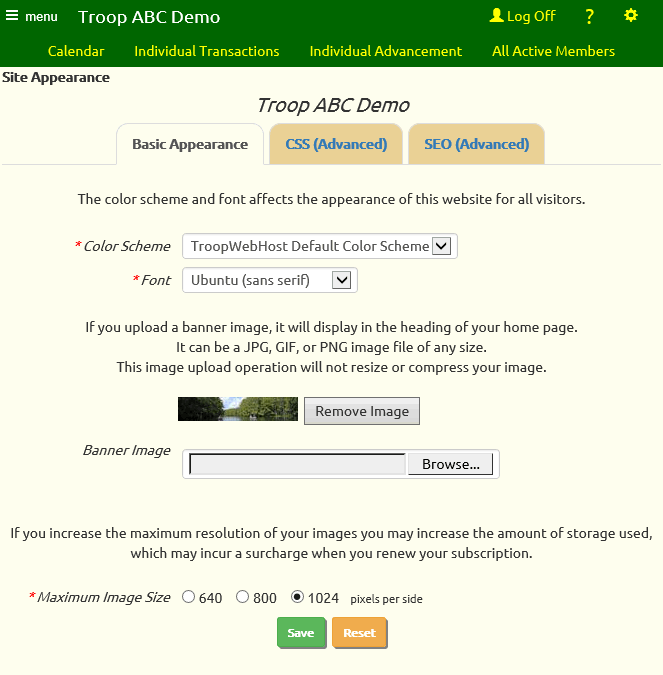 From this page, you can choose a Color Scheme from one of TroopWebHost's predefined color schemes. This will change the background colors of pages, as well as the color of page outlines and menu text.
You can select a Font from the list of popular Google Fonts. Your entire site will be rendered using the font you select.
You can also upload a banner image from your computer. This image will be displayed at the top of your home page.
Banner images can be of any size. Banner images must have the .jpg, .gif,or .png file extension.
The Maximum Image Size applies to other images you upload to the site, such as the event photos you store in the photo gallery. The system will resize your photos so that neither the height or width of the image will exceed the value you select here.
Click the Save button to save your changes.
Note that the only function of the Reset button is to restore the selections from when the page was loaded, after the last save. It will not reload the page or undo a save.
The CSS (Advanced) tab will take you to another page which allows you to replace the default CSS for your site. This is only for advanced users with experience in HTML and CSS.
The SEO (Advanced) tab will help you improve your site's visibility to search engines like Google.