Search Engine Optimization (SEO) is the process by which you make your site more visible to other users when they are searching for similar sites.
While there are no hard and fast rules for improving search engine rules - and the rules do change from time to time - the SEO tab on the Site Appearance page may help you improve your site's visibility.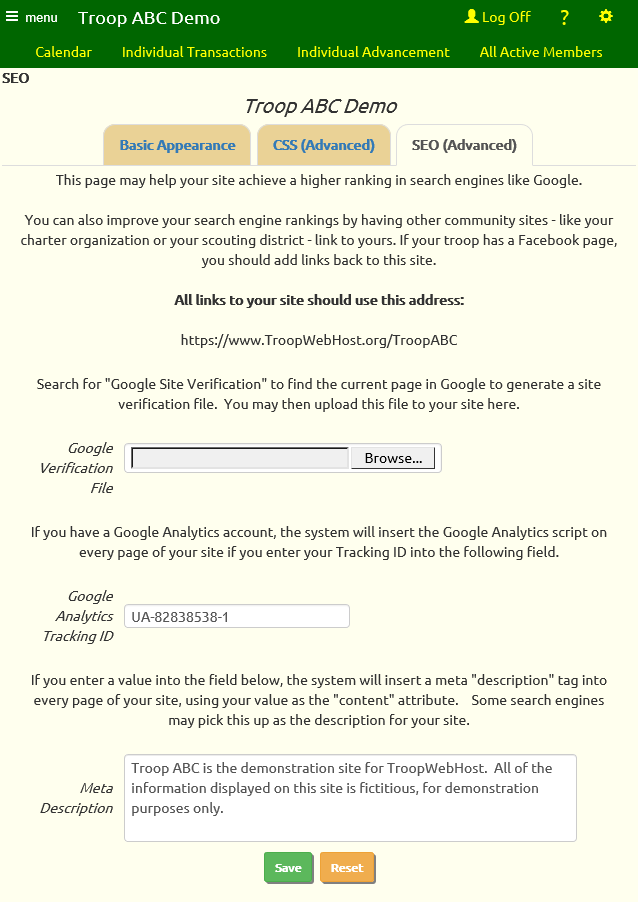 The first section of this page is based on the well-established rule that the more sites that link to yours, the higher your ranking will be.
It advises you to get other sites - especially sites from other organizations in your community - to link to your site. This could be your charter organization, or your scouting district. It could also be your troop's Facebook page.
In all cases you should link to the URL that is displayed on this page.
The second section of this page allows you to upload a Google Site Verification File to your troop's subdirectory. This is a critical step in getting Google to recognize your site.
The third section allows you to save your Google Analytics Tracking ID. When we see a Tracking ID for your troop we will add the Google Analytics script to every page of your site, with your Tracking ID inserted in the appropriate spot. This should make your site even more visible to Google.
The last section allows you to provide a Meta Description for your site. This may be picked up by some search engines as the description they display for your site. Just enter the value you want placed in the "content" attribute; the system will generate the rest of the meta tag for you.