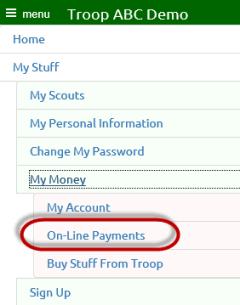 If your troop has configured your site to accept on-line payments via PayPal™ or Square, you will see an item on your My Stuff menu called On-Line Payments.
This will allow you to make credit or debit card payments to your troop.
Please be aware that, if your troop is using the default configuration, the payment processing vendor will deduct its fees from your payment, so that the amount that the troop receives (and which will be credited to your account) may be less than the amount you paid.
To begin, go to My Stuff → My Money → On-Line Payments to see a page like the one shown below.  (If your troop has opted to absorb the credit card transaction fee, the screens you see will be slightly different than shown below.)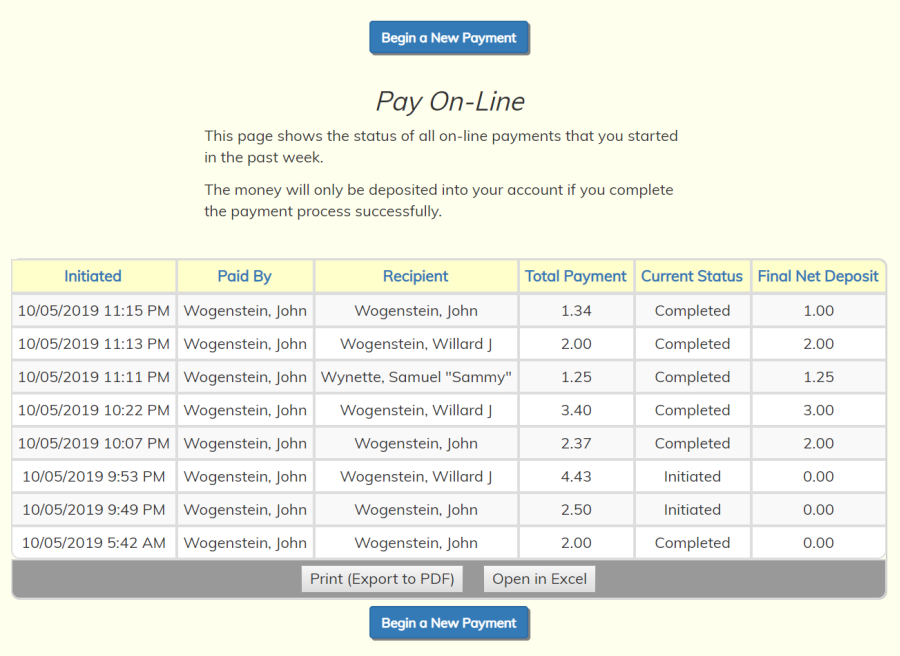 The grid on this page shows the status of recent payments that you started to make using this feature.   The payment will not show up in your My Account transaction list until it has been successfully completed.
Click on Begin a New Payment to go to the screen below.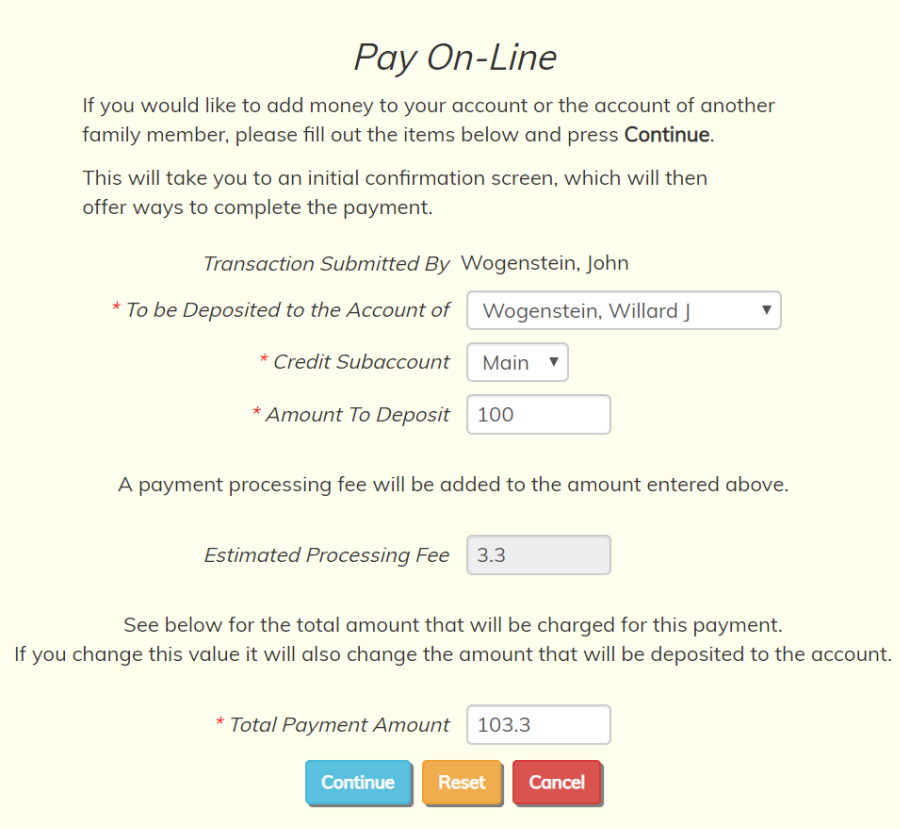 Select yourself or one of your family members from the drop-down list To be Deposited to the Account of.  Once your payment is approved, it will be applied to the balance of this person's account.
The Amount To Deposit is the amount you intend to deposit to your troop account.
The Estimated Processing Fee is the estimated amount of the fee that payment processing vendor charges for this service.
The Total Payment Amount is the amount that will be charged to your credit or debit card, or transferred from your PayPal account.
You can enter a new value in Total Payment Amount and the system will recalculate the estimated fee and amount to deposit to your account.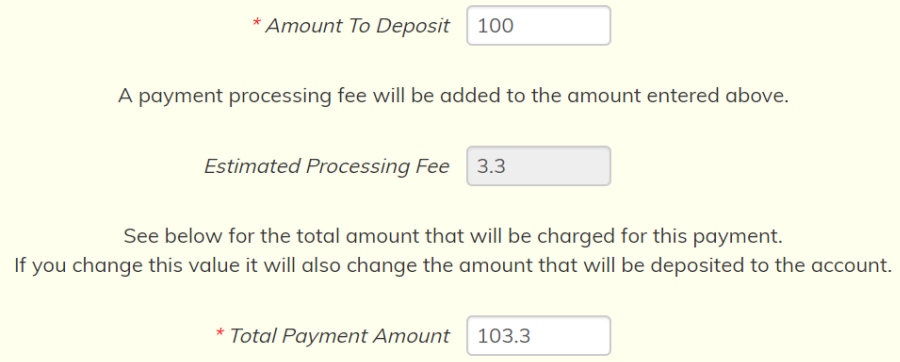 In the example shown above, the user entered 100 in the Amount To Deposit and the system calculated that this would require a payment of 103.30.
Click the Continue button to proceed to the screen shown below.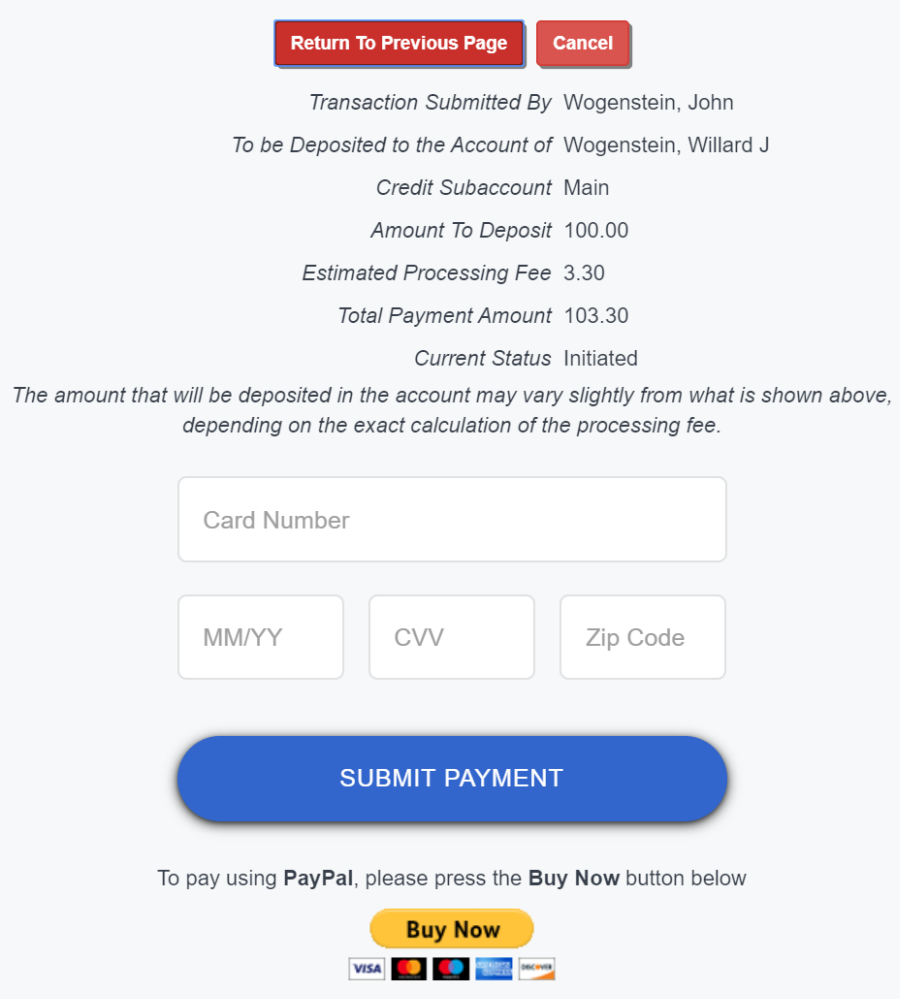 If your troop accepts payments using Square, you will see the credit card input fields in the middle of the page, as shown above.  Fill in the fields and press the Submit Payment button to complete the process.
If your troop accepts payments using PayPal, you will see the Buy Now button at the bottom of the page.  This is your last stop before going to PayPal™ to provide your payment information.   The payment will not be credited to your account until you successfully complete the payment process at PayPal.  It is not necessary to have a PayPal account to use this function;  you will be given the option to pay with a debit card or credit card.