The Fundraiser Budgets tab allows you to create a budget for each fundraising event planned for this fiscal year. The budget module assumes that you will create an event on your calendar for every fundraiser.
This is the fifth tab on the Budget page reached from Money → Fiscal Years & Budgets.
If you have already completed your work on the first four tabs, the Budget Fundraiser Need displayed at the top of the page should be the total income needed from fundraisers for this year.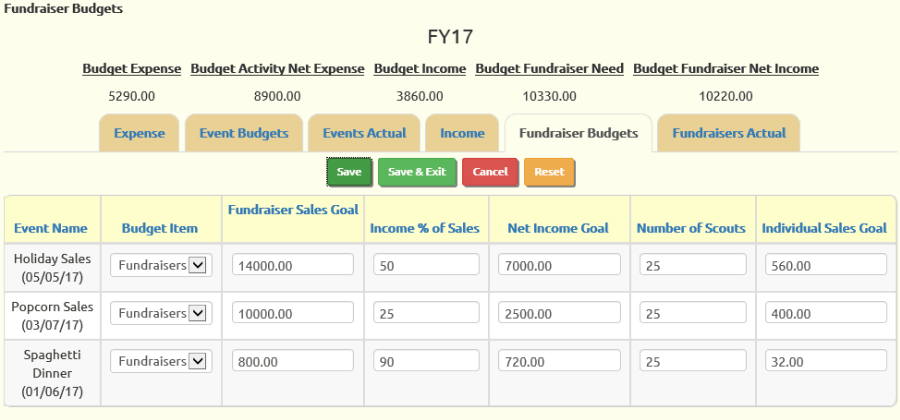 For each fundraiser, you should first select the appropriate Budget Item from the drop down list. This is the budget item into which all of the expenses and income for this event will roll up. The default budget template only has one budget item for fundraisers, so this choice list may only contain one entry.
The Fundraiser Sales Goal should be set to the gross sales goal for this fundraiser.
Income % of Sales is the percentage of the gross sales that you expect the troop to retain as its profit from the fundraiser.
Net Income Goal is the total profit expected from this fundraiser. It will be be automatically computed based on the previous two columns.
The Number of Scouts is the number of scouts you expect to participate in this fundraiser.
The Individual Sales Goal is computed for you. It represents the gross sales needed from each scout to achieve the Fundraiser Sales Goal.
To save your entries:
Click Save, or
Click Save & Exit, or
Click on another tab