Some adults will belong to both troops, either because they are leaders in both troops or because they are the parents of scouts in each troop.
When we link your new troop site to an existing troop site, we provide the option to copy and link the membership records of these adults. This can be done from three places:
The Active Adults page
The New Scout Registration page
The Merit Badge Counselors page (Counselors Not In Our Troop tab)
If you go to Membership → View / Maintain Members → Active Adults you will see a new button, Add From Linked Troop, as shown below.
This will take you to a page where you can select an adult to be copied from the other troop.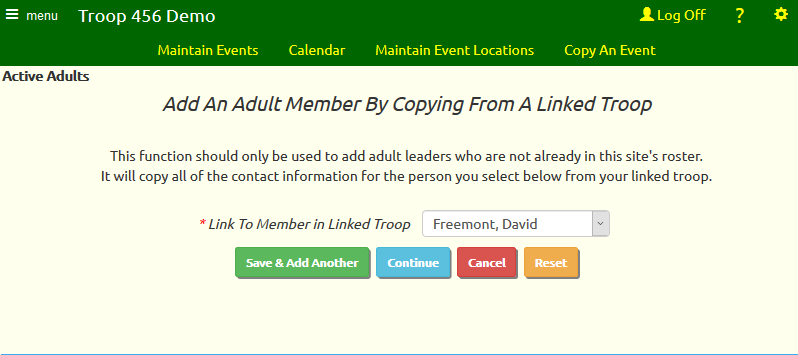 If you have several adults to copy, click Save & Add Another to quickly copy all of them into your new site. Any adult who you've copied will disappear from the drop down list.
Or click Continue to update information about the person you just selected.
The system will automatically synchronize much, but not all, of the information about adult members that you've copied and linked. This will include:
All contact information, such as name, address, phone numbers, email addresses, etc.
Spouse name
BSA ID
Employer information
Medical form dates, health insurance, allergies, dietary restrictions
Eagle scout date (from membership record)
Vehicle information and drivers license
Swimming test level and date
Emergency contacts
Order of the Arrow status and dates
Date joined troop and date joined scouting
Notes
Training history
For merit badge counselors, the list of merit badges supported
This means that any changes you make to this information in your site will be automatically copied to the other troop's database.
The following types of information will not be synchronized with the other troop:
Photo
Patrol and crew assignment
Email opt out settings
TroopWebHost administrative contact settings
Charter status - transfer and multiple unit
Biographical information (for display on Our Adult Leaders page)
Leadership history
Awards
Advancement history (from scout who became adult member)
When entering new scouts into your system using the New Scout Registration page, you will have the option to copy their parent's information from the other troop's database, as shown here: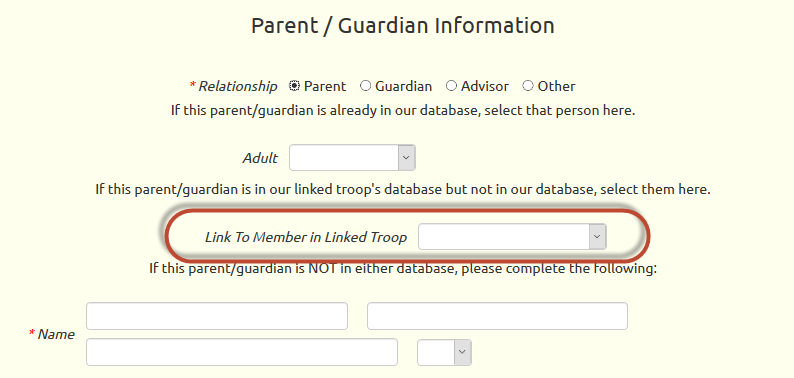 This will copy this adult's information into your database and link it to their record in the other troop, as described above.
Merit Badge Counselors who are not members of your troop may also be copied and linked between the two troops.
Please go to Advancement → Merit Badge Counselors and click on the Counselors Not In Our Troop tab to see the page shown here.

Click Add From Linked Troop to copy and link a merit badge counselor from the other troop, including the list of merit badges they support.
If merit badges are added for a counselor they will be immediately copied to the linked site.