We've just seen that you can enter merit badge information for an individual scout from the Individual Advancement page.
There's another way to find and enter merit badge information that can show you merit badges for all of your scouts.
Go to Advancement → Maintain Advancement → Merit Badges.
This will display a query screen, as shown below. This screen allows you to enter selection criteria to display selected merit badges.
Along the left side of the page are the names of all the fields you can use to select merit badge information.
Next to each field name is a drop down box that lets you indicate how you want to use that field to select information. If you click on the box labeled Merit Badge (as shown above), one of the choices is Matches. When you select that entry, a new drop down box will appear to the right with a list of all of the merit badges.
You can select one merit badge by clicking on it. You can select several merit badges by holding down the CTRL key while you click on them.
Click the Show button to view the merit badges you have selected.
The system will respond by showing you a list of the records that matched your criteria, like this: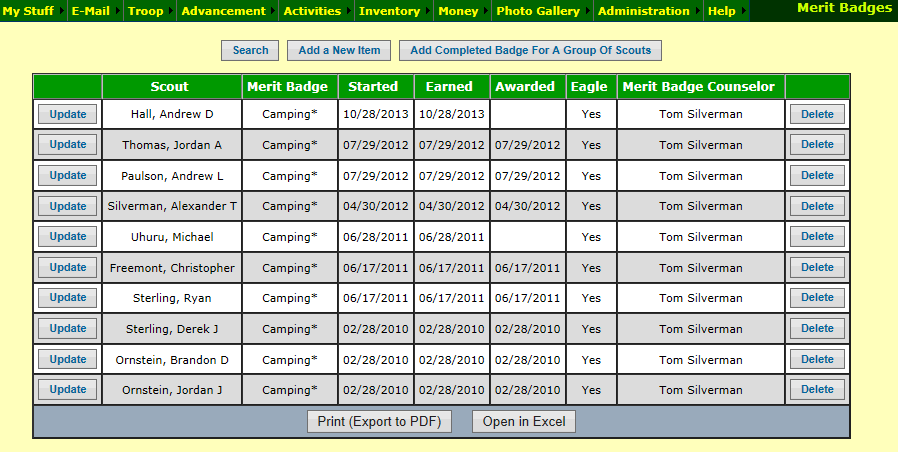 You can update any of these records by clicking on the Update button.
You can add a new merit badge that a scout is working on by clicking the Add a New Item button.
You can add completed merit badges for a group of scouts by clicking Add Completed Badge For A Group Of Scouts. That will display a screen like this: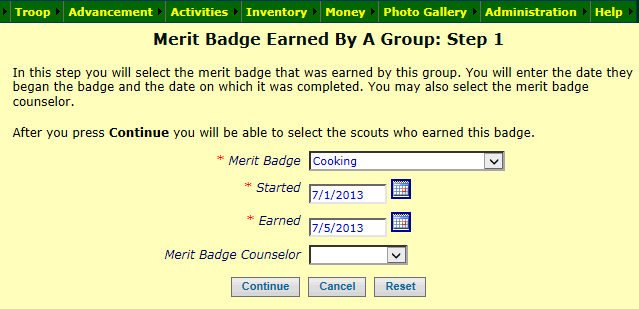 Select the merit badge, and then enter the dates that this group of scouts started and completed this badge.
If the merit badge counselor who advised these scouts is in your merit badge counselor list, you may select him or her as well.
Then click the Continue button to go to the next page.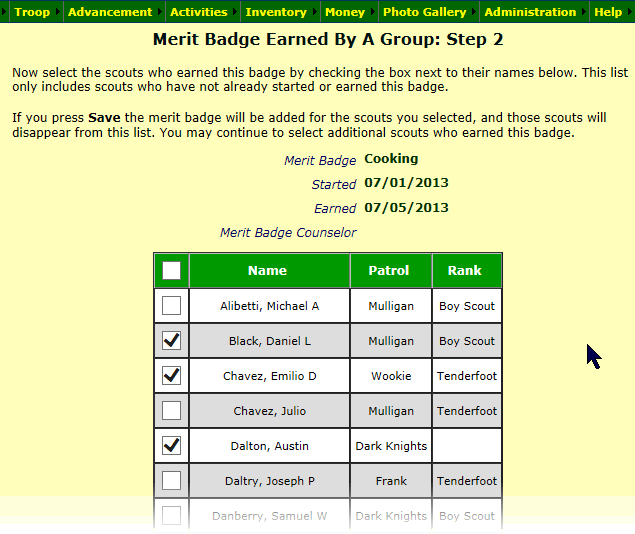 The grid contains a list of all active scouts in your troop who had not yet started this merit badge.
Click in the checkbox next to each scout who completed this badge.
Then click Save & Exit at the bottom of the page to save your work.