The About Our Troop page is another public page that you can edit in the same way that you Edit Your Home Page.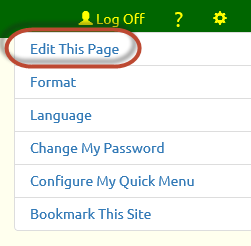 Just go to Home → About Our Troop and click the

icon in the upper right corner of the page to reveal the Tools menu, as shown at right.
Select Edit This Page to begin making changes.
Things to consider including on this page:
History of your troop
Troop philosophy
Information about your chartering organization
Meeting schedule
Scouting lore
Here is an example of an About Our Troop page: