TroopWebHost gives you the option to let parents fill out an electronic permission form instead of signing a paper document.
This option is turned off by default. Further down this page we will show you how to enable it for your troop.
With electronic permission configured, when your parents access the calendar to sign up for an event they will see an additional button, Give Permission, as shown below. A similar button will be available on the Event Sign-Up page that can be accessed from My Stuff → My Scouts.

This button will only appear next to scouts who have not yet been given permission to attend this event.
When you press this button, you'll be taken to the Electronic Permission Form, as shown below.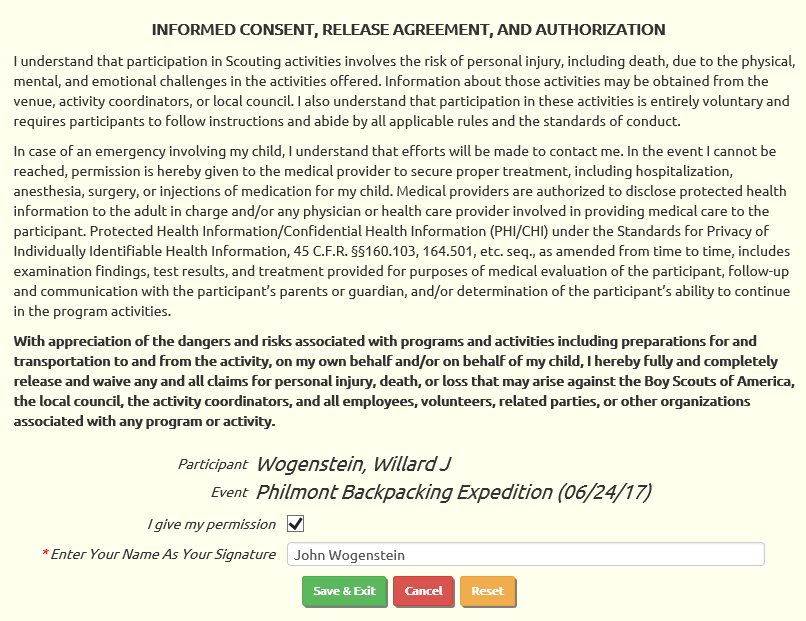 This page identifies the scout and the event for which you are giving permission.
Click the checkbox, then type your name in the signature block. Click Save & Exit to complete the process.
If the scout wasn't already signed up for this event, he will be signed up now.
Configuring Electronic Permission
As you might have guessed, electronic permission is enabled through the Event Type.
To enable electronic permission for events of a given type, update that event type and select the Enable Electronic Permission option, as shown below.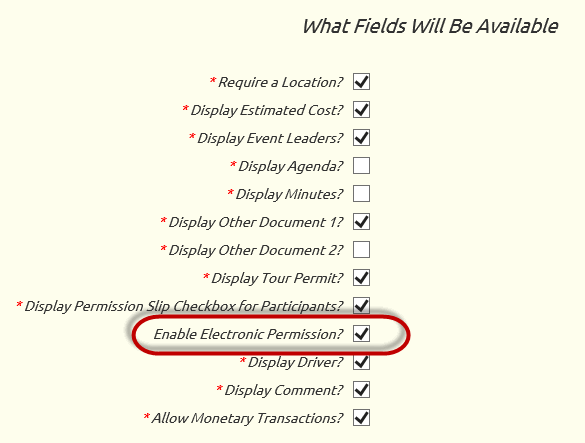 The text of the Electronic Permission Form is also configurable. Please go to Site Configuration → Electronic Permission Form to see a page like the one shown below.
Edit the text as needed, then click Save to save your changes.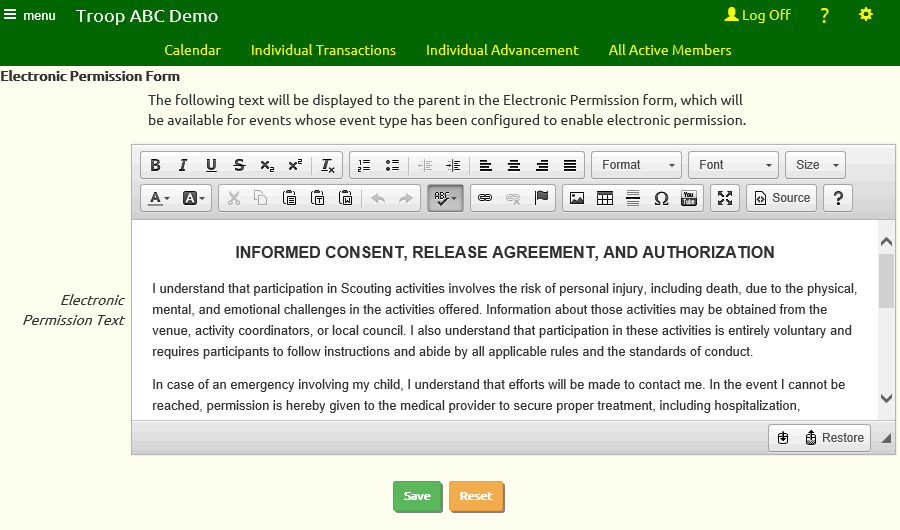 Viewing Electronic Permissions
Troop leaders can view the details of an electronic permission from the Sign Up Members For Event page or from the Troop Calendar detail page.
A section of the Troop Calendar detail page is shown below.

The View Permission button will appear next to any scout who has been given permission either by paper form or by electronic permission. This will take you to a page like this: