If you are fortunate enough to have access to page on the BSA™ MyScouting site where you can download ALL of your troop's training history, you can disregard this function; That file can be uploaded on the Upload Training From MyScouting page.
Unfortunately, the BSA appears to have restricted access to that page, so one alternative is to download your YPT training data, which seems to be more accessible on the MyScouting site. Since it doesn't include anything other than Youth Protection Training, it is less useful than the full training file, but it still has value.
We've seen two different formats of the YPT file, both of which are Comma Separated Value (CSV) files. Either version will work with our upload program.
One version has several rows at the top with information about your troop, followed by a header row. The other version begins with the header row at the top. In either case, the header row is followed by one row for each leader who has had YPT training.
The header rows vary slightly, but must contain at minimum the following values (without the quotation marks):
"MEMBER_ID" (or "memberid")
"FIRST_NAME" (or "firstname">
"MIDDLE_NAME" (or "middlename")
"LAST_NAME" (or "lastname")
"Y01_EXPIRES" (or "Y01EXPIRATIONDATEC")
"Y02_EXPIRES" (or "Y02EXPIRATIONDATEC")
"Y03_EXPIRES" (or "Y03EXPIRATIONDATEC")
You must have the YPT courses already defined in your Training Courses table. The codes and course names should be exactly as follows:
| | |
| --- | --- |
| Code | Course Name |
| Y01 | Youth Protection Training 2 |
| Y02 | Venturing Youth Protection Training 2 |
| Y03 | Exploring Youth Protection Training 2 |
The upload program is available at Membership → Training → Upload YPT From MyScouting.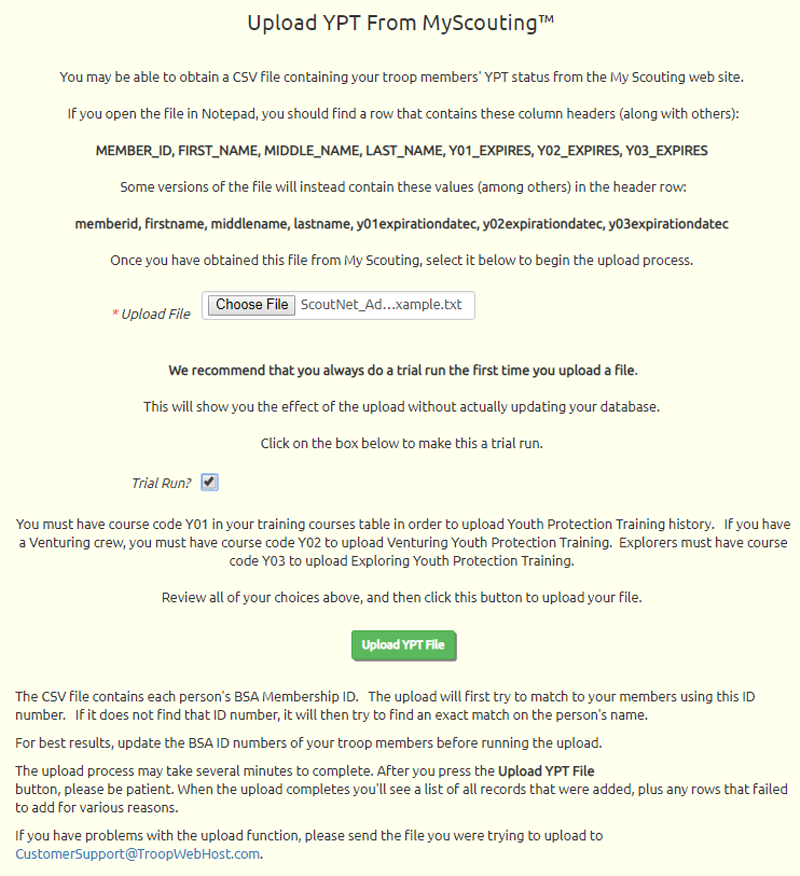 Select the file that you downloaded from the MyScouting site using the Upload File control.
We recommend that you always do a trial run the first time you upload each file.
This will allow you to see the effect of the upload without actually updating your database.
You may then want to make some changes to your data before you upload the file for real - which you do by leaving the Trial Run box unchecked.
The upload program will first attempt to identify each person using their BSA ID. For this reason, it is a good idea to update the BSA IDs of each of your leaders before running the upload.
If a match cannot be found on BSA ID, the system will attempt to do an exact match on first, middle, and last names.
Press the Upload Training File button when you are ready to process the file.
When the upload is complete it will display information about any errors encountered, plus a summary of what was uploaded.