Once you've configured your site to allow members to submit requests for expense reimbursements, those members may begin submitting such requests.
You will be notified of such requests via e-mail messages like the one shown below.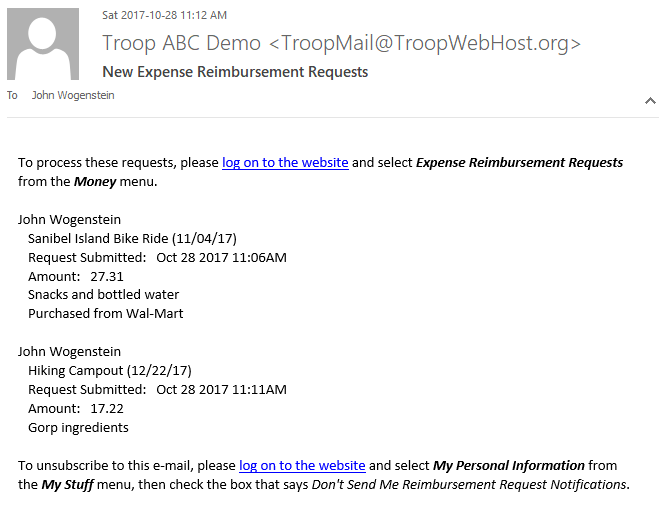 These messages will be sent to all users in your troop with the "Treasurer" user role, or who have user roles that are authorized for "Maintain Financial Information" or "Review Expense Reimbursement Requests".  If you do not wish to receive these messages, please log on to the site and go to My Stuff → My Personal Information and check the box Don't Send Me Reimbursement Request Notifications.
To process these requests, go to Money → Expense Reimbursement Requests.

This page lists all pending requests.  If you wish to see those requests that you previously approved, click the Approved Requests button at the top of the page.  To see requests that have been rejected, click Rejected Requests.
Click Update next to a pending request to approve or reject it.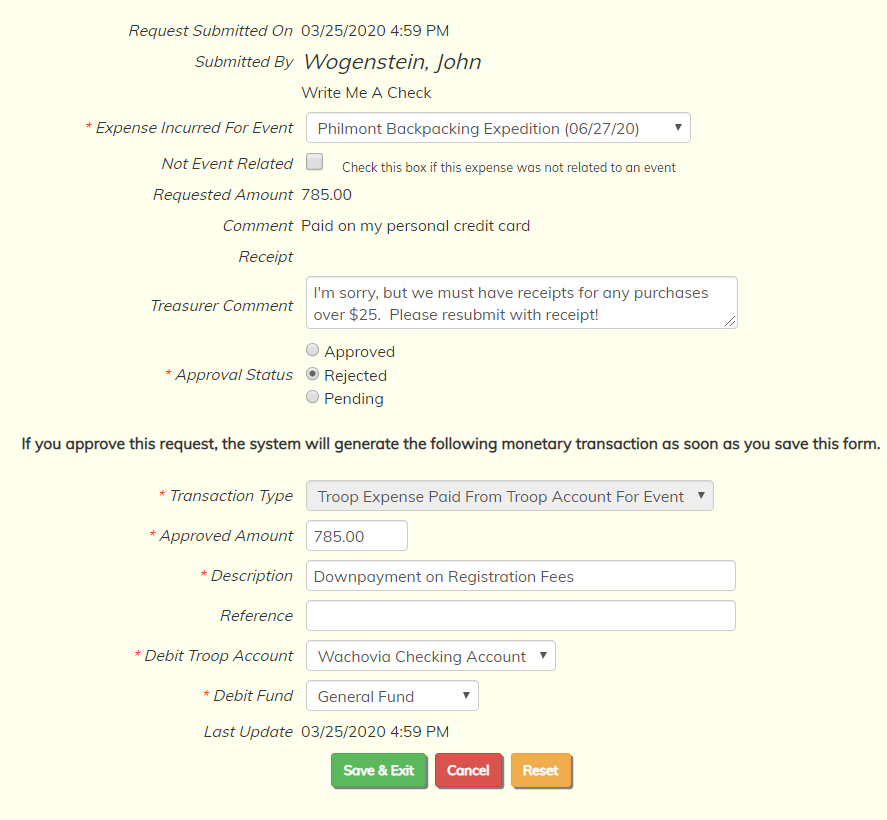 This page shows all of the information from the original request.
Click on the Approved radio button to approve the request.  This will automatically generate a monetary transaction with the attributes shown in the lower half of this page.  You can modify some of these values as needed before you approve it.
Click on the Rejected radio button to reject this request.  You should also enter an explanation into the Treasurer Comment field, which the requestor will be able to see.
If you approve the request, you should verify the Approved Amount and make sure the Description is what you'd like to see on the monetary transaction.
If you issued a payment, you should enter the check number in the Reference field.
If the transaction type requires a fund, you will need to select the appropriate fund from the drop down list.
For expenses not linked to an event, you may be asked to select an expense budget item.
Click Save & Exit to update this request and generate the transaction if you approved it.