Begin the recharter process by creating a recharter year. To do this, please go to Membership → Recharter → Recharter Years to see the following page.

Click Add a New Item to create a new recharter year.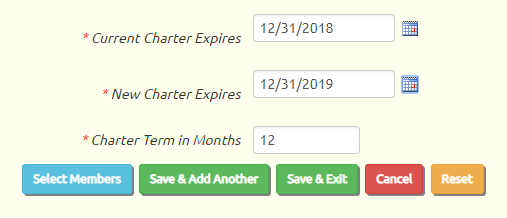 Current Charter Expires is the date your current charter expires; it is the day before your recharter becomes effective.
New Charter Expires is the end of your next charter year.
Charter Term In Months will usually be 12, unless you are changing your charter year ending date to a different month.
Click Select Members to add this year and select the members who will be included in the recharter.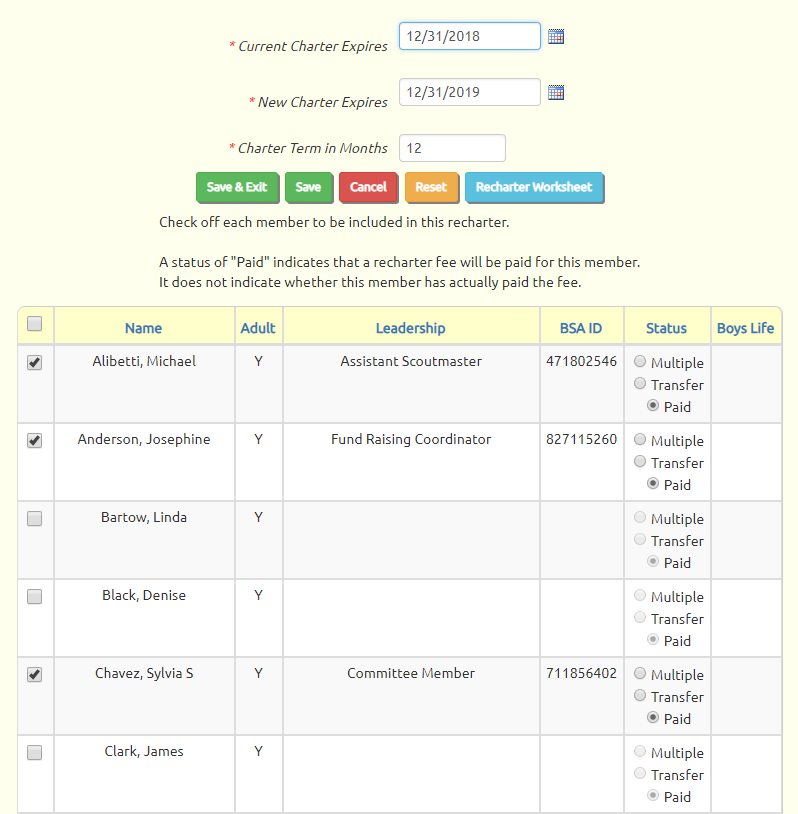 The system preselects all active scouts.
It also preselects all adults who:
Hold a leadership position as of the start of the new charter year, or
Have a BSA ID number on their membership record
Review the list and update as appropriate.
The Status column choices are:
Multiple - indicates that this member belongs to multiple BSA units, and the recharter fee is paid at one of the other units
Transfer - indicates this member is transferring from another BSA unit where their recharter fee has already been paid for this year
Paid - indicates that this member's recharter fee is paid from this troop
The Boys Life box should be checked for every scout who subscribes to Boys Life.
Click Save & Exit button to save your changes.
Click Recharter Worksheet to produce the Recharter Worksheet report.