After you've loaded the Scout file from ScoutTrack™, you may proceed to load the Adult file.   This contains information about parents and adult leaders.
To create this file, export your data from ScoutTrack into an Excel spreadsheet, then open the spreadsheet in Excel to the second tab, ScoutTrackAdults, as shown below.

Then select Save As from the Excel File menu, and choose "Text (Tab delimited) (*.txt)" from the Save as Type choice list, as shown here.

In TroopWebHost, go to the Membership menu and select Upload Members, then select Upload Adults From ScoutTrack™.
You should see the screen shown here: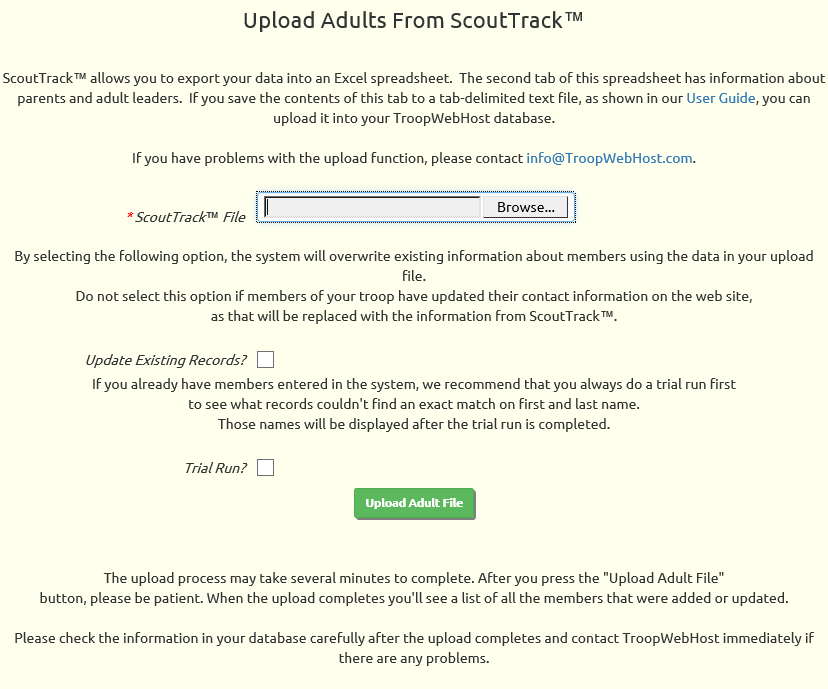 Click the Browse button to find the Adult file that you just created from the Excel spreadsheet.
Click the Upload Adult File button to begin loading this data into TroopWebHost.
This will add all of the parents and adults from ScoutTrack™.   It will create a User ID and Password for each person added.
After you upload this file, you will need to create the relationships between the scouts and their parents. You can do this from the Active Adults page. Update a parent and scroll to the bottom of the page, where you will see the Add Scout Relationship button. Click this button to begin linking this adult to their scouts.